4th of July Kids Activities to Celebrate Together All Day and Night
*This post contains affiliate links, which means I receive a small commission, at no extra cost to you, if you make a purchase using this link. Please see my disclosure for more details.
Celebrating the 4th of July is a key part of summer! It is an all-day affair with pool parties, cookouts, fireworks, and everything in between!
One of the best parts about celebrating the 4th of July is the time with family. There is laughter all day and great memories are made.
There is no better way to bond with your children than with meaningful time spent together!
You can easily get the kids involved and excited with these 4th of July kids activities. I have found the simplest and most fun activities for you to do with your kids this year. They can be used throughout the week or you can do them all the day of.
Here are fun 4th of July kids activities to fill a week or the day with festive food, crafts, and games!
---
4th of July Inspired Food
Waffle Flag
I love making breakfast fun and festive for any reason I can find. These waffle flags were incredibly easy (they are just Eggo's!) Add some blueberries, strawberries, and Reddi-Wip and you are off to the perfect start of the day!
Edible Flag
Perfect for snack time or add it to lunch! Super simple and yummy! Your kids will not only love how it looks but also how it tastes. It is made up of blueberries, strawberries, icing, and graham crackers. What's not to love? This idea came from theeducatorsspinonit.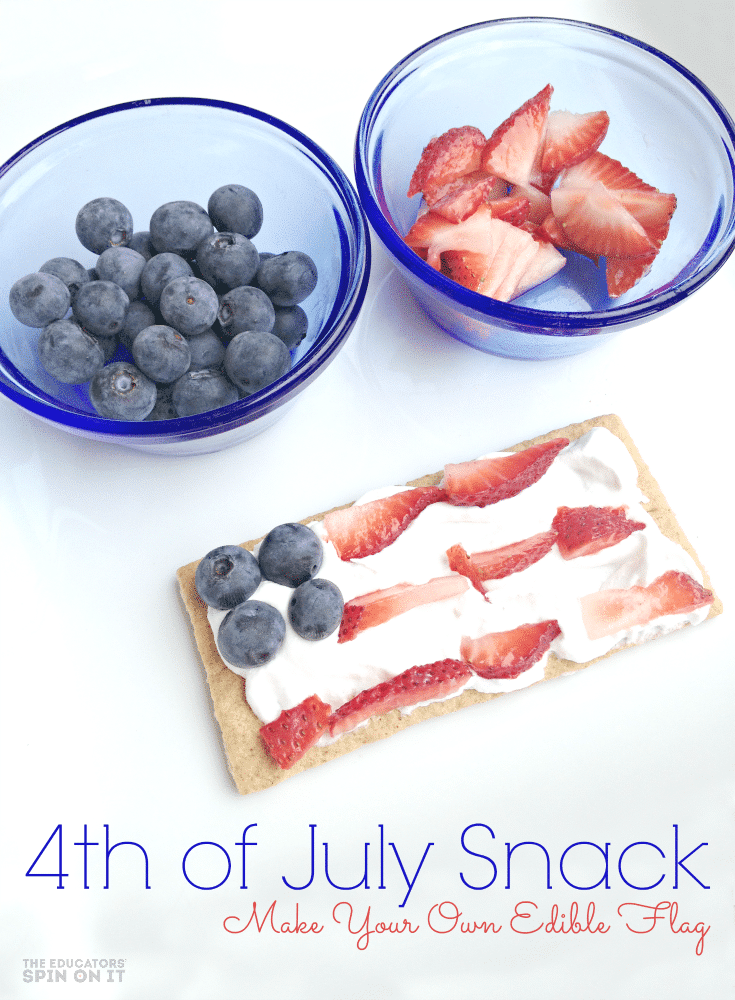 4th of July Fruit Platter
Now that you have a bunch of blueberries and strawberries, make a 4th of July-themed fruit platter! Easy peasy and you can either buy the chocolate-covered pretzels or make your own. See how passionforsaving made theirs.
Firecracker Float
This idea is just too cute! What I love about it most is how crazy simple it is! Really, all you need is ice-cream, strawberry soda, and blue Pop Rocks. That's it! Add a fun straw if you'd like and there ya go, you're mom of the year! See how iheartartsncrafts did it here.
Marshmallow Pops
Hang onto those cute straws you bought for the float because we are building marshmallow pops! Again, another super simple and fun idea for the 4th of July. All you need is marshmallows, water, skewers, and sprinkles (red, white, and blue of course! This idea came from thedecoratedcookie and you can see how she made them here.
Lollipop Bouquet
There is no need to complicate things! Your kids will love this patriotic lollipop bouquet! Maybe if they're lucky you'll even let them have one early. This is also great to bring to that cookout (I'd say you contributed!) This idea came from Gluesticks.
---
4th of July Kids Crafts
Paint Fireworks
Let your kids create their own fireworks with some paint, straws, and a piece of paper! See how it was done by Crafty Morning here.
Don't have straws laying around? No problem! I know you've stacked up on that toilet paper since you know what, so try using a toilet paper roll. That is what Start at Home Decor did here.
Confetti Poppers
Try some DIY confetti poppers to add a little bit of a bang to the day! These are crazy easy and you can choose to get as creative as you want with the decorations (or not at all). See how Happiness is Homemade made these.
Make a Necklace or Bracelet
Of course, you and the kids need to dress up in your patriotic wear for the day! A necklace and bracelet would be a great finishing touch and also a great craft. See how Buggy and Buddy made this necklace and instructions to make a bracelet for younger kids as well.
Sparkle Bottle
I love this simple idea of making a sparkle bottle! We have made discovery bottles before and my son loves them! The process of making them is fun and much like a science experiment. Playing with them is great for calming a child. See how Jamonkey made this 4th of July sparkle bottle.
Windsock
This simple craft is great to add a bit of decoration in the kids' room or on the front porch. You can easily make a windsock and see how iHeartCraftyThings did it here.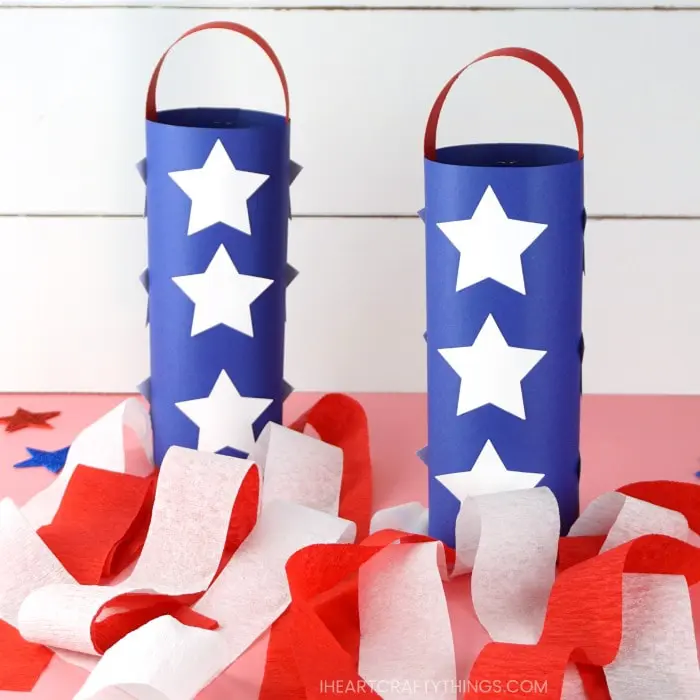 ---
4th of July Kids Games
Balloon Toss
All you need to make the 4th of July fun for the kids is a little activity to get them moving. This game is perfect because it is easy, can be played for as long as they'd like, and easily made festive. See how messforless used paper plates, popsicle sticks, and balloons to create a fun game.
American Cannons
This is another simple game idea turned festive that you can do this year. Fourhatsandfrugal used dollar store buckets, containers, and plastic balls to create this game. You can make up your own rules and point system. See how fourhatsandfrugal played here.
Lawn Twister
You will definitely get some good laughs out of this one! Have a crazy family like mine? If so, you could even get the adults playing. All you need is some spray paint and a spinner. See how onegoodthing did it here.
Tin Can Toss
All you need is some cans and as much decoration as you'd like. Oh, and something to throw at them of course. Again, you make up the rules and the points. See how sixcleversisters played.
Let's Amazon It!
Sometimes you are just too busy and the best option is Amazon! You could get this super cute Bingo game, the Sack Race, or the patriotic Jenga. Oh, and don't forget about the cute accessories!
Time to Celebrate!
Now you have easy 4th of July kids activities to make celebrating together fun and a bonding experience.
Remember it isn't about the craft or activity, it's about how you took the time to listen and learn from your children.
Please share pictures of how you used the food inspiration, crafts, and games to celebrate with your kiddos! Also, share if you have a favorite way to celebrate the 4th of July in your home.